Badoo
2.47.6
Soul Searching
You might be feeling lonely. You might also be searching for a true partner that can appreciate you and take you for who you really are. But if we ignore the fact that that we attract mirrors of ourselves, there's nothing stopping you now to take the matters into your hands and call for the power of technology to assist you along the noble quest.
Random Encounters!
Badoo is the sort of social network software that is aimed at fixing dates between people rather than keeping them seated on the computer (except to search for other people to date). Making a profile is rather easy. When you create an account you can import pictures from other social network sites such as Facebook or Google+. Along with some of your personal data, a Badoo profile can also feature a list of interests which is a sort of tag system that lights up whenever you view people that have chosen the same ones.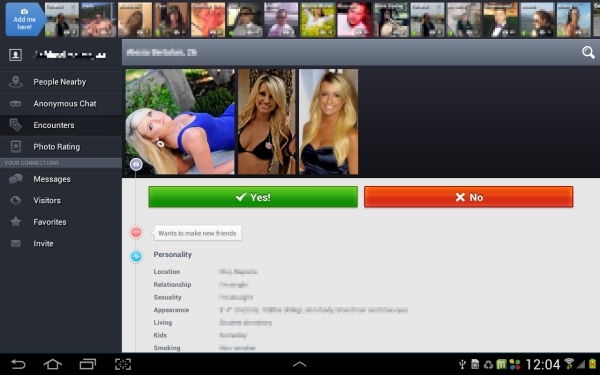 You can spend time on Badoo doing one of four activities. The handy one is doing a quick search for nearby people (based on current locations). You can then view their profile and start chatting. In case you do not want to expose yourself before finding an interesting person you can choose option B. That is entering in an anonymous conversation with someone Badoo selected as fitting your preference criteria (age and whatnot).
But the most thrilling activity is Encounters. In this mode profile after profile are shown for you to rate with:
"Yes!" means that the other person is notified of your raised interest. DOH
"Maybe" lets her discover you before finding that you are also interested. It's basically the shy person's option.
"No" is basically a Skip button.
The last one is called Photo Rating and is a system that allows you to be brutally honest about pictures of random people. At the same time it satisfies your masochistic nature by allowing them to be brutally honest about yours. Sounds tempting doesn't it?
Features
Random Encounters – The thrilling aspect of discovering people.
People Nearby – Start chatting with dangerously close people.
Chat – You can chat with people you've discovered or have mutual attraction with.
Random chat – chat with random people what to chat at the same time.
Picture voting – you vote on random pictures of users while yours get voted also. This establishes an average score and gives you an idea of how appreciated each one is.
I am a bit disappointed by some users' inability to judge a picture by clarity, artistic composition or even common sense. That means that you can simply put your most impressive body part in the spotlight and you're guaranteed for a good mark. Oh the shallowness, the depravity! (The experience may vary of course).
Pros
It has a clear and functional interface.
You can create detailed profiles.
The picture moderators are very vigilant.
Cons
Anonymous Chat is not guaranteed to work all the time. It depends on other users' availability.
You can't be sure on how accurately your photos are rated.
Conclusion
Badoo is here to help you connect with potential friends and does it all for free. Except it requires some monetary compensation in return for extended privileges. But that's okay though. Using the free version can be rewarding as well.
RELATED PROGRAMS
Our Recommendations
---
---
---
---